For an adventurous bonding time with your little ones, a double jogger is the solution. And if you're blessed with double the fun and excitement with twin kiddos, the Baby Trend Expedition Double Jogging Stroller is the one for you. Take on that terrain and hike, run and jog with your little angels.
Baby Trend Expedition Double Jogging Stroller Specifications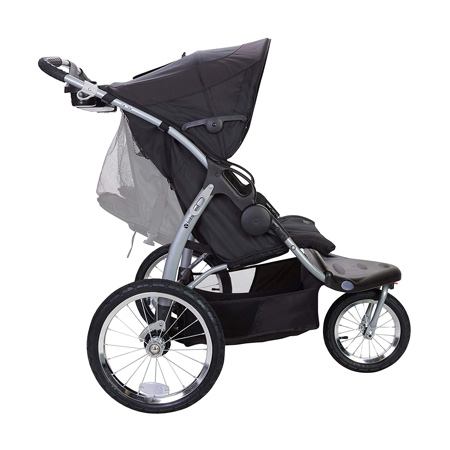 Pneumatic bicycle tires
Front swivel wheel
Bigger rear wheels
5-point harnesses
Adjustable reclining seats
Oversized fender
Shade canopy with speaker
Mesh pockets
Parent organizer with cup holder
Comfortable handle and wrist strap
Enough foot space
Storage compartment (underseat)
Weight: 30 lbs.
Product dimension: 54 x 33 x 42 inches
Quality
For a simple neighborhood trip or a more rigorous adventure like the zoo, themes parks and other bumpy trips, this stroller is sure to take on the challenge. This stroller is made from durable and high-grade materials – from the pneumatic bicycle tires up to the stroller body itself.
Safety
For parents, there is nothing more important than the safety of their children. This Baby Trend stroller is designed and engineered with safety in mind. First is the front swivel wheel with metal lock pin, bigger rear wheels for balance and support and the 5-point harnesses to keep your babies on the seat.
Baby-friendly
For ultimate enjoyment and comfort, this stroller is your perfect partner in giving your kids an adventure worth remembering. It has comfortable stroller seats, harnesses, canopy and foot hold. The stroller seats are adjustable, so napping is not a problem.
And for your baby's food, it also has mesh pockets for easy access to snacks. You can even store baby towels here.
Parent-friendly
Since the stroller is your partner in showing the world to your babies, a parent-friendly stroller is the one you need. And hooray as this stroller has features you'll surely love.
For easy maneuverability, the pneumatic bicycle tires and the comfortable handle does the trick. And as an added security, a wrist strap is also included in this stroller.
Perhaps the best feature that comes with it is the right amount of space for your feet. Trot and jog all you want without the hassle of kicking the wheels of your baby's strollers.
Another parent-friendly feature is the storage compartment for baby things like diapers and feeding bottles. It's quite small though for two babies, but it can be solved with proper packing.
Style
Style-wise, this baby trend stroller is perfect. The only concern is the width. With it being 54 x 33 x 42 inches, this stroller cannot usually fit in the average-sized door.
Pros
Safe
Comfortable seats for the baby
Has mesh pockets to easily access important things like snacks or baby wipes
Has a foot space so you do not trip or step on the stroller when you are walking or jogging
Cons
Is quite big that it usually does not fit when passing through an average door
Overall
The Baby Trend Expedition Double Jogging Stroller is your helping hand in heading out to that family escapade. Enjoy!
---
Related Reviews