Biometric gun safes can be a secure way to store firearms, however, some biometric safes can have big security flaws. It is therefore important to buy a reliable biometric gun safe and essential to protect your firearms from both thieves and young children.
We have compared many biometric safes and there are defiantly some you should avoid using. Below we are compiled our biometric gun safe reviews so you can easily see which ones are best for you.
Biometric Gun Safe Awards
Best Biometric Gun Safe – LockSafe Biometric Pistol Safe
Best Mid Range Gun Safe – BARSKA Biometric Safe
Best Gun Safe Under $100 – Stack-On PS-10-B Biometric Personal Safe
Best Single Biometric Gun Safe – Gunvault SpeedVault SVB500
Best Rifle Biometric Gun Safe – BARSKA Quick Access Biometric Rifle Safe
Read our reviews below to find out more about each one.
Top Biometric Gun Safe Picks
1. LockSafe Biometric Pistol Safe Review
Best Biometric Gun Safe – Our top pick goes to the LockSafe biometric pistol safe, which is arguably the best biometric gun safe on the market. From our testing, it has the best security for your weapons and personal belongings due to its super thick steel construction and precise biometric scanner.
Not only did we like the construction of the safe but the biometric scanner was also very high quality. There are many biometric safes that simply have poor biometric scanners which lead to a lot of frustration, however, this one was very accurate, reliable, and hassle-free.
---
2. Barska Biometric Gun Safe Review
Best Mid Range Gun Safe – If you're looking for something more affordable then Barska offers a great solution with their biometric gun safe. What we liked about this safe was that it came with a ton of features, providing great value for the price such as sophisticated scanner, mounting holes, backup keys, and additional hardware.
You also get a lot of room with this safe as many others for this price are much smaller. This allows you to easily store not just guns but other personal belongings such as money, jewelry, important documents, etc.
---
3. Stack-On Biometric Personal Safe Review
Best Gun Safe Under $200 – If you're not looking to spend much on a gun safe then we recommend the Stack-On PS-10-B. Whilst it was not specifically built for guns, it will easily store a few smaller firearms along with some personal possessions you want to keep secure.
Unlike many sub $200 gun safes, the biometric scanner on this one works well and is one of the best selling biometric safes under $200.
---
4. Gunvault SpeedVault SVB500 Biometric Gun Safe Review
Best Single Biometric Gun Safe – For those who just have one handgun to store, and want the best safe for it possible, then you should checkout Gunvault's SVB500. Not only does it allow you to secure your gun extremely well it allows you to access it fast, and discretely.
The design of this biometric gun safe allows you mount it in a place that is out of sight such as under a desk. It also allows you to register up to 120 individual fingerprints, making this the perfect gun storage of choice for both work and home.
---
5. BARSKA Quick Access Biometric Rifle Safe Review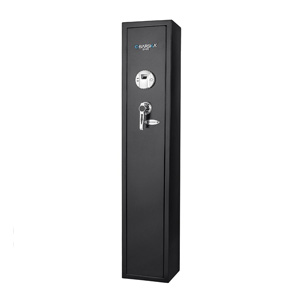 Best Rifle Biometric Gun Safe – Whilst the other biometric gun safes are suitable for smaller items, they certainly aren't big enough for storing rifles. Thankfully, Barska developed a much larger gun safe that is capable of storing 4 rifles along with extra storage space for handguns and personal belongings.
Like other Barska safes, it is well built and comes with a ton of great features for the price. It will store up to 120 fingerprints, includes 2 backup keys, as well equipment so you can easily mount it for extra security.
---
Conclusion
After reviewing a large number of biometric gun safes we only really found a handful that was both safe and effective. You can find more gun safe reviews on this site such as specific reviews for different types of gun safes.