If you want a top of the line heart rate monitor and fitness watch, then you need to get the Garmin Forerunner 405CX. In this review I tell you why it's a must-have.
Imagine you are running through the woods. The trail starts to thicken and soon you're in the middle of the deep forest, no houses, roads, or people around. You start to hear some growling sounds. Is it your stomach or could it be a grizzly? What do you do?
A) Cry out for your mom.
B) Stay where you are, eat some red berries, and hope the park ranger is looking for you.
C) Glance down at your Garmin Forerunner 405CX and follow the navigation arrow back to the path, out of the woods.
Now, you'll probably never be in this situation, but if you ever were, the Forerunner has got you covered and then some. I have to say, of all the sports watches and cardio speed measuring devices out there, the Garmin Forerunner 405CX is the most amazing technology-wise. It is a deluxe, luxury vehicle type model with dozens of incredible features all designed to help you perform better and become more healthy and fit.
Combining the latest advanced GPS tracking, heart rate performance measurements, and electronic data collection, the Garmin Forerunner 405CX is a must-have for serious runners and cyclists. Here are some of the coolest things that I found that you can do with the Forerunner.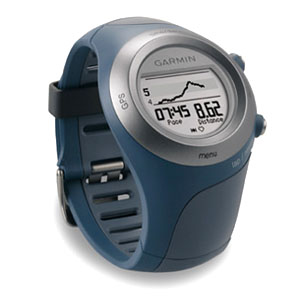 Plan Your Own Road Course
Now this Forerunner feature is really awesome. You set the Garmin up to follow a route or course that you did in the past and was recorded on your monitor. Then you can have the wristwatch track you as you try to beat a previous time. Or you can create a new course on your computer. You get to plan the route and distance beforehand. It's like plotting out your own race.
You can even add the little Virtual Partner (see below) to race against you. Plus you can load up your courses to the Garmin website where others can follow it and compete against you. You can also download other people's workouts and see if you can beat their times. This can really get you motivated!
Before you start the course, you can jog or bike around to warm up, then as soon as you are on any part of the course path, the Forerunner will start recording, and the race begins! It will even tell you if you stray off course at any time through an icon on the display. You can then use the navigation page to find your way back. How cool is that!
Compete Against A Virtual Partner®
Think Tamagotchi here, but instead of feeding it food, you feed it miles. And you compete against it and try to kick its little ass. Well, maybe not so much, but it can be really motivating to finish out a run strong and cross the finish line before your virtual partner. You can set the pace and speed of the partner before you start your run.
This video shows the Virtual Partner in action.
Know Where You Are At All Times With Garmin's GPS (Global Positioning System)
Now this is where Garmin really excels. Your Forerunner is programmed with GPS using a network of 24 satellites. The GPS works anywhere in the world, in any weather conditions, 24 hours a day. There are no setup charges or monthly subscription fees to use the GPS. In the navigation mode you can set an original location and a destination location. You can then pull up a compass on the Forerunner 405 and follow the direction arrow and distance reading to get to your destination. Different locations can be saved and selected from a scroll down list on the wrist monitor.
Choose from A Variety of Different Types of Workouts
You can choose from three basic types of workouts, Simple, Interval, and Heart Rate.
Simple Workouts are based on time, distance, and calories according to your settings.
Pulse Rate Workouts can be programmed using a specific heart rate zone or a range of beats per minute, again based on your input.
Interval Workouts can be based on time or distance. You can also program rest times and a warm up or cool down. An alarm sounds as the interval ends.
Another note about workouts – you can plan and structure these on your computer and transfer them to the Garmin before you head out. So if you're planning something complicated and wacky, it's best to do it on the computer beforehand.
Use The Forerunner 405′s Heart Rate Training Zones To Focus Your Weekly Workouts
The Forerunner 405 uses the following five zones for its cardio zone training calculation. It shows this information in a graph on the face of the watch so that you can easily see what zone you're in while you train.
| | | | |
| --- | --- | --- | --- |
| Zone | % of Max Heart Rate | Exertion Level | Benefits |
| 1 | 50-60% | This is an easy pace, with slow breathing. | Good for beginners to start getting active again. Can be a good warm up as well. |
| 2 | 60-70% | You're breathing a little harder here, but it's still pretty easy and you can have a conversation. | This level is good for recovery and you get some cardiovascular benefit. |
| 3 | 70-80% | Harder to talk and a bit faster pace. | The optimal level for cardio training. You get improved aerobic capacity as well. |
| 4 | 80-90% | Hard breathing, fast, uncomfortable pace. | Enhance your speed, muscular endurance, and anaerobic capacity. |
| 5 | 90-100% | Sprinting, very hard to breath. You can't go at this level for very long. | Increase your power and boost your muscular and anaerobic endurance. |
Share Training Methods With Others In Garmin's Virtual Community, Garmin Connect
You can share the courses you've run or biked, your different locations, and some of the cool advanced workouts you've developed with other members of the group. You can even send one of your favorite, specially designed workouts to your friends online. Plus you can compete against one of your friends and try to beat their time on one of their courses, or on one of your own. You can do this with people from around the world which is pretty awesome.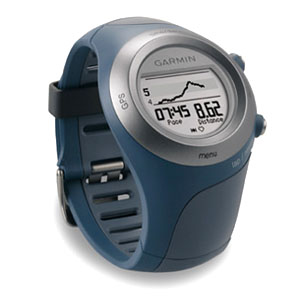 Setting Up Your Garmin Forerunner 405CX
Since the Garmin is powered by a rechargeable battery you'll need to charge the battery first for about 3 hours before you use it. Then you simply follow the onscreen instruction to learn how to use the bevel interface.
You'll need to input some basic data about yourself and your activity level. Garmin provides a handy activity class chart in their Users Manual and additional instructions through Garmin Connect, which is a web-based training tool, and the Garmin Training Center, which is a computer-based training tool.
If you have trouble with any of the setup Garmin has detailed videos on their website showing you how to do things. You can see demo videos on how to use the watch's advanced functionality, how to set up the bike mode, how to connect to the Garmin training site, and how to use the monitor with a foot pod.
The Garmin 405 uses satellite technology to track your workouts so when you first use the device you'll need to step outside to allow the monitor to sync up with the satellites in the sky. Even though GPS tech is readily available and has been around for years, I still think it's pretty amazing that you can have this on your wrist watch.
Your Garmin 405 comes with free software and a USB ANT Stick that lets you upload your training data to your computer. After you've installed your software, which can be downloaded from the owner's section of the Garmin website, simply put the USB stick into your computer and bring the Forerunner within 3 meters (almost 10 feet) of your computer. The data will then be automatically transferred via wireless connection to your computer once you've done a workout. How easy is that!
The Training Mode Makes Your Workouts A Snap
The Training Mode on your Garmin 405 opens up a range of different features for you such as Running Mode, Biking Mode, AutoLap®, AutoPause®, Heart Rate Zones, and Speed Zones.
AutoPause – This feature will automatically pause the timer when your speed drops down below a value that you input or when you stop moving. So, if you're running sprints and need to stop and rest between intervals, your data won't be recorded. Also you may run into some stoplights as you cross the street if you're working out in the city. When that happens the Forerunner will pause.
Auto Scroll – You can set the Forerunner to automatically cycle through all of your training data pages while you're working out. This definitely beats having to push a button to scroll.
AutoLap – This lets you mark a lap at a specific position or after you've gone a specific distance. Most of us don't have the opportunity to run on a track where the distance is specifically marked, so this is a great way to automatically track your distance. Plus it beats having to try and mark the distance off in your car before you run. I've had to do this before because I like trying new routes and it can be a pain.
Other Data The Forerunner 405CX Records
In addition to the benefits listed above, you also can record your time, total distance travelled, average pace/speed, average heart rate over a workout, and average cadence. The Forerunner also keeps track of the progress you are making towards your goals. You can set up different goals through Garmin Connect.
The Forerunner also tells you the sunrise and sunset times based on your GPS position.
The Garmin ForeRunner 405CX will record 1,000 laps and approximately 20 hours of detailed data, including GPS position and heart rate data.
Accessories That You Can Easily Couple With Your Garmin 405CX
These are optional items not included with the 405CX but can easily be purchased as add-ons. If you're a cyclist, then the bike sensor is a must have.
Garmin Foot Pod – You can use this when training indoors or when the GPS signal is weak. The wireless foot pod clips onto your shoelaces and will start recording pace and cadence data automatically when you start moving.
Garmin GSC 10 Speed/Cadence Bike Sensor – This tracks the speed and distance of your cycling workouts.
Pros
Fantastic User Interface – In addition to the easy to use and understand buttons that are clearly labeled on the watch face, the Garmin 405CX has a silver bezel around the watch that you can use to scroll through the different screens. To use it, you simply tap your figure on it to make a selection and then toggle through the menu items or you can touch and drag your finger to scroll the options. It's really easy and intuitive to use. There were, however, some user reports that the bevel function is hard to use if the Forerunner 405CX gets wet or if your hands are really sweaty. So make sure your hands are wiped off and dry before messing with the bezel. Or you can just lock it and then have it autoscroll through the screens as you workout.
Easy to read watch face screen – You can see multiple readings on the watch face at the same time, which is a real plus for me. You can see in the following picture one set of measurements you can see on the Garmin with just a quick glance down at the watch.
Outstanding GPS Functions – As we discussed above, Garmin really excels in this department. They are really one of the best in the world as far as GPS tracking. Many owners also comment on how accurate the GPS feature is and what great reception and a quick signal you get.
Cons
Reports of the battery dying too soon – Although Garmin states that the battery should last 8 hours during constant use with the GPS on, there were a number of reports from owners that the battery did not last that long. Other owners have found a solution to this problem by making sure they have a full charge before going out for a run. As a habit, they just put the 405 in its charging station when it's not in use.
Can't use it for swimming – The Forerunner 405 is not recommended for use in the water for long periods of time. Therefore if you're a triathlete and want to use a heart rate monitor under the water, you'll need to look at the Suunto t6c heartbeat recording device which has a specially designed memory belt, docking station, and heart monitor that you can use while swimming.
Bevel control can be overly sensitive – Some owners have trouble working the bevel especially when their hands were sweaty after a hard workout. You can however adjust the sensitivity to a setting you feel comfortable with. Plus you can lock the bezel control before you go out for your workout and have the readings auto scroll.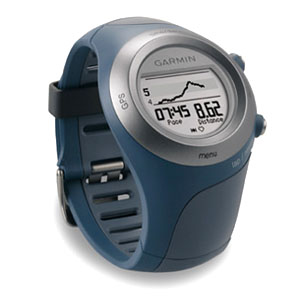 What's Included
Forerunner 405CX wrist watch
USB ANT stick
Heart rate monitor and chest strap
2 wrist bands, one large and a second one that's Velcro for people with smaller wrists.
AC charger
Charging clip
Owner's manual on disc
Quick reference guide
More About Garmin
Garmin is headquartered in Olathe, Kansas and has been in business since 1989. Garmin makes GPS based products for autos, boats, planes and helicopters, and produces fitness devices and outdoor recreation products for hikers, campers, and geocachers, as well as wireless applications for smart phones.
Other Helpful Resources
Karen Barrow, a writer on the Gadgetwise Blog of the New York Times, tried out the Garmin ForeRunner 405CX and found it to be a high-end watch but with all the features and bells and whistles you could ever want in a training tool. She really liked the iPod-like bezel controls and how easy the watch was to setup. She loved the GPS tracking where she could do interval training based on distance, and she like being able to run in any direction she wanted. She found that the battery needed to be charged pretty frequently.
Runner's World Magazine's professional running gear tester, Sean Downey, gave his comments on the Garmin Forerunner 405 as well. He basically loved the 405. He really liked how easy to use the touch sensitive bezel was and that it replaced about 7 buttons on the older Forerunner 305. Although he did say the bezel could be sensitive to a long sleeve shirt brushing against it so he set the sensitivity to a low level. He really liked the fast satellite connection with the GPS and on average he would have to wait about 30 seconds for the link up. He thought that the wireless download of data to his computer for analysis was a big plus as well. His favorite thing though was the virtual training partner, which he said was a nice little motivator. He also felt that the battery charge didn't last long enough.
Related Post