What is the best gun safe? A gun safe is a very essential thing to own if you are someone who has multiple firearms in their house. If you have children, then you definitely should invest in one of the best gun safe in order to avoid any mishaps.
3 Essential Reasons You Need A Gun Safe
1. Legal Requirement
There are several states that make it illegal not to have your firearms stored in a gun safe. This means you could be fined or face jail time, simply for not having your gun locked up. The list of states can be found here.
This makes a lot of sense considering over 16,000 individuals in the United States are treated each year in hospital emergency rooms for unintentional gunshot wounds.
2. Children
We can't always keep an eye on our kids, and leaving them to find it somewhere in the house could be devastating. A 1991 study found that 8% of accidental shooting deaths resulted from shots fired by children under the age of six.
3. Theft
You also have to worry about theft. Unsecured firearms are easy targets for thieves, which they may later sell or even worse use against you or your family. Securing something you have paid hundreds or even thousands for makes a lot of sense.
Gun Safe Buyers Guide
If you own at least one firearm, you need a gun safe. In certain states, such as California, not owning a gun safe means you potentially face liability should your firearm be stolen. Not all gun safes are created equally, so it can be hard to choose the right one for your needs.
Lots of research is needed to separate the facts from marketing claims to ensure you end up with a gun safe that is not only affordable and practical, but will serve its ultimate purpose. There are no regulatory standards placed upon gun safes in the USA. Your gun safe will likely be a lifetime investment, so get it right the first time.
Why Use a Gun Safe?
Gun safes not only help protect your firearms from theft, but they can also ensure the guns are safely kept away from children, reducing the likelihood of misuse inside the home. If you live in a state that requires guns to be stored in some sort of safe, it is a good idea to buy the safe at the same time or shortly after you buy a firearm.
Types of Gun Safes
There are multiple types of guns safes, with safes classified based on the type of gun being stored, or the type of locking mechanism used.
Biometric Gun Safes
Also known as fingerprint gun safes, these safes use a locking system that requires fingerprints to open them. Because you can program several fingerprints, you are able to give multiple people access to the safe. The major benefit to this kind of safe is that it can be opened in a moments notice. You have to be careful when you buy one because some of the products available are not made with the highest quality of standards. Pay attention to the brand and make sure to buy a reputable one.
Electronic/Digital gun safes
Rather than using a key or combination, the safe opens using a code entered on a digital dial pad. These offer a quick convenience, but you may find they run on a battery, so you must have a backup battery supply to ensure it functions properly all the time. It is also important to change the code on a regular basis since dial pads will begin to wear with time. Signs of wear may hint to others what the code could be, thus allowing unauthorized access to the guns in the safe.
Dial Safes
One of the most reliable types of safe is the dial safe. Because it does not use technology that is prone to failure, this safe offers security. A dial combination is required to open the door. Though secure, it is not easy to open at a moments notice compared to other types of safes available today. You cannot change the combination on this type of safe. No power supply is required, unless there are features such as lighting or dehumidifiers that need power to function.
Handgun safes
These safes are smaller because they are designed to hold pistols and handguns. Some of these are even small enough to fit inside a drawer, which makes them ideal. If you only have a few valuables to store inside the safe and you don't have any long guns that you need to store, a handgun safe may be the ideal option. These are typically less expensive, though many people opt to invest in a long gun safe so they have room to grow their collection.
Long gun safes
Larger and more bulky, these safes are designed to store larger sized guns, as well as multiple guns. They are available in a number of sizes depending on the number of guns you need to store. Many also include other compartments to allow for storage of gun accessories, such as cleaning supplies. Some safes even feature compartments that allow you to store other valuables. They can also be used for handguns, especially if you use a rack to keep them organized.
Every gun owner will have different needs when it comes to their safe. Inspect different locking mechanisms, explore different brands and features, and look at price points to determine what will work best for you.
Size Recommendations
It is a good idea to buy a gun safe that is larger than what you think you need. You never know when you will want to add to your collection, so you need to be sure you have extra room for any additional firearms that may be added to your collection later. In addition to protecting your guns, the right safe can protect other valuables as well. You can quickly fill up the safe, and space will likely go faster than you realize. Measure all the items you intend to store in the safe, and add a bit more room when you shop around, to be safe.
While you want a gun safe that will provide you room to grow, you also want to keep it as small as possible, to make it easier to store and to conceal. If the safe becomes obvious, it is a target for burglary. Ideally, it should be kept in the basement or attic, but could also be kept in a closet.
Though thicker steel will make the overall unit heavier – the thicker the steel, the better the protection you'll have. Thicker steel will also cost you more, so this is something to consider. 12-gauge steel is only about 0.081 inches thick, which can easily be broken into with power tools. It is best to opt for 10-gauge, or lower, with 8 being ideal, for the sides and doors.
Budget Considerations
Those who have time to wait for a bargain can usually find a used gun safe for less than $1,000. Lighter units, weighing 500 pounds or less, you can move on your own. If the unit is heavier, expect to pay for moving and installation.
Buying new means you'll spend an average of at least $800, with many American made models starting at $1,000. Unless you ship and install the safe on your own, add another 10 to 30% to cover shipping and installation costs.
Gun safes that cannot easily be defeated with brute force methods will run anywhere from $1,400-$5,000 brand-new, depending on size and fire protection. These safes offer a tremendous amount of protection against all non-power tools. However, power tools will still get inside in a matter of minutes to hours depending on installation and location. Because these are heavier, they cost more to move, so add and 50% for shipping and installation.
To get a top quality true safe that will stand up against power tools, prepare to spend anywhere between $2,000 to $15,000, depending on the size, level of security, and fire protection. These can weigh more than a ton, so add anywhere from 20% to 80% more to cover the cost of shipping and installation.
Though the budget is important, also take time to consider the level of warranty and support that comes with the safe at the time of purchase. Read the fine print, and be aware that not all safes will come with one. If you purchase a safe with fingerprint scanners or electronic locks, these components could fail over time. If a locksmith ever needs to come open or repair the safe, there could a potentially substantial cost involved. If the warranty covers these issues, it could be worth the extra expense when initially buying the safe. If not, the money you save by opting out of a warranty could cost you later.
Increasing Security and Protection
If you cannot afford the safe that offers the protection you desire, you can do things on your own to make a less expensive safe better.
Select a good location – out of plain view – and bolt the safe to the floor. Consider hiding the safe altogether – perhaps inside a hollowed out refrigerator. Customize your gun safe with extra steel, only in locations where you need it.
Improve overall home security and reduce fire risk. Fireproof the safe yourself, or install a sprinkler head directly over the safe's location. Keep your personal tools locked up, or hidden, so as to prevent burglars from using your own tools to break into the safe. Don't store ammunition or powder in the safe, as these could ignite in a fire, and make the situation worse. Store it separately, in another container, away from sources of heat and flame.
Practice "free" home security techniques, such as forwarding your phone calls when you leave, or using timed lights, so you appear home when you're not to avoid becoming a burglar target.
Tips for Buying the Right Safe
Spend the money on a safe that offers the size, features, and protection you want. Your gun collection may easily add up to tens of thousands of dollars in value, so why protect it with ta safe that only cost a few hundred dollars? If budget is a concern, opt for a used safe. Compared to many other products, safes typically do not wear out over time. Look for businesses in your area that are changing locations; you can secure a high quality commercial safe for not much more than the cost of removing it.
Spend more on a safe that offers fire resistance. Pay close attention to the claims of the safe, as fireproofing may not be effective. If sheetrock is used, make sure that is properly installed. If you are also using the safe to protect media files another valuable documents, it is a good idea to purchase a commercial grade fire safe to put inside the gun safe for double protection.
Research multiple brands before you buy. Unlike other products on the market where brand may not represent significant differences, there are significant differences among brands of gun safes. For instance, Browning offers a patent pending door mounted rifle rack. Fort Knox uses advanced methods for security and stabilization. Brown offers a custom wood interior shelf with commercial grade burglary protection. Compare differences between brands to determine which brand has features that best suite your needs, and then select the size and lock style you need.
Pay close attention to the specifications of the safe. Just because the unit is heavy and large, does not make it secure. Heavy gauge steel is less likely to be cut and drilled than light gauge steel. Some safes out there have thin walls that can be penetrated with a fire ax.
Research the safeguards against tampering for your safe. Quality safes will have extra armor or features that will prohibit drilling. Lower quality safes can be opened in a few minutes using battery-powered hand tools. All safes should have re-lockers to make sure the safe remains locked in the case of a burglary.
Don't expect to be able to find the right gun safe for your needs without shopping around. Make sure the safe meets all state regulations in terms of safety ratings. Have a professional install the safe, somewhere in your home that is out of plain sight. Train other adults in the home about how to use the safe, and educate children on an age-appropriate level about gun safety.
Still think owning a gun safe isn't worth the investment? A lot of times, you'll be storing a collection worth two to three times more than the safe itself – and quite possibly priceless, irreplaceable items. Divide the price of the safe, including shipping and installation charges by the number of years you expect to use the safe. Compare this dollar amount to the total value of the items stored in the safe. You'll quickly find the cost of the safe makes it an inexpensive insurance "policy" in and of itself.
Best Handgun Safe Reviews
Below you'll find our top picks for handgun safes, priced between $40 – $300.
1. GunVault GV1000C-DLX Review
Our top pick is the GunVault GV1000C-DLX. This safe is our all around favorite: quick access, strong constructions, portable, and at a great price. It even has an inbuilt motion detector to alert you of tampering. Utilizes 16-gauge steel and a high strength lock mechanism.
---
2. GunVault SpeedVault SV500 Review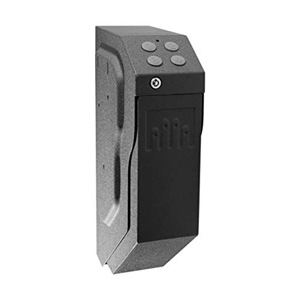 If fast access if your priority then there is no better than the SV500. This can be discreetly mounted in numerous ways such as under a desk or table. It's 18-gauge steel construction will keep your gun secure whilst still allowing fast access. The foam lining interior will also ensure your gun doesn't get scratched.
---
3. The Gun Box Review
If you want the latest tech and don't mind paying extra for it, then we recommend The Gun Box. This sleek gun safe uses the latest biometric technology to give you quick and easy access. It is aircraft strength aluminum and slim design make it both secure and portable.
---
4. GunVault NV200 Review
If you're on a tight budget, then the GunVault NV200 is a good choice. It has enough room for one handgun and small documents. It's size makes it very portable, whilst it's 18-gauge steel construction offers good protection.
---
Best Standard Gun Safe Reviews
Below you'll find our top picks for standard gun safes, priced between $500 – $2000.
1. Winchester R19 Ranger Deluxe Review
Our top pick is the Winchester R19 Ranger Deluxe and for good reason. This safe offers some of the best features for a fraction of most other safes, whilst being of superb quality. It has a sizable 24 gun capacity and is well built with: 10 steel locking bolts, 12 Gauge body construction, and an impressive 1 hour fire rating.
---
2. Bighorn 6039 ELX Review
Want something a little bigger? Consider the Bighorn 6039 ELX/MLX. It boasts a 33 gun capacity which is great for it's price. You can rest easy with its: 11 Gauge steel, drill resistant armor, 10 thick steel locking bolts, and a 70 minute fire rating. Not to mention countless other security measures.
---
3. Browning SR26F Gun Safe Review
The Browning SR26F is one of our favorites with beautiful craftsmanship. This modern safe is custom made for you, so you can customize the front scene/marking, color design, lock and much more. Key specs: 11 Gauge body, 16 locking bolts, and a 100 minute fire protection.
---
4. Barska AX11898 Biometric Rifle Safe Review
If you don't have many firearms to store and aren't looking to spend much, then the Barska AX11898 is a good choice. It has a modern design, and utilizes the latest biometric technology. Other options around the same price range include the Stack-On SS-10-MG-C and Steelwater 16 Gun Safe.
---
Best Premium Gun Safe Reviews
Our favorite brand for high end safes is Browning for a few reasons: excellent build quality, modern design, very customizable to fit your needs, and pass high gun safe standards. Prices start from $2500 for these safes.
1. Browning M28F Gun Safe Review
The Browning M28F is one of the best looking safes we have seen. Incorporates Browning's signature shelving construction which keeps your safe organized. Key specs include: 29 gun capacity, 18 thick 1 1/4″ bolts, 10 Gauge steel, and 110-minute fire resistance at 1700 degrees.
---
2. Browning M40F Medallion Series Gun Safe Review
The Browning M40F is the big brother of the M28F. It can comfortably hold up to 43 guns, whilst still having the solid build quality of the M28F. Key specs include: 18 thick 1 1/4″ bolts, 10 Gauge steel, and 110 minute fire resistance at 1700 degrees.
---
3. Browning PP52F Platinum Plus Gun Safe Review
The Browning PP52F is one of their most premium gun safes. For the higher price tag you get an overall more secure safe with: 28 thick 1 1/2″ bolts, a 3/16″ thick steel body, and greater fire resistance at 1750 degrees for 120 minutes. It is able to hold up to 43 guns.
---
Top 10 Gun Safe Brand Reviews
1. Gun Vault
GunVault gun safes for a long time are known to deliver on premium safes that meet the standards of many people who need gun safes. For a while now, the company has been able to set the standards for the rest of the industry when it comes to making gun safes. The company now has a patented technology of No-Eyes keypad and bio pad aimed at providing easy access to the gun safe even in the dark. The company provides the best gun safes in different classes. You can get a gun safe for wall mounting, pistol gun safe and car safes.
GunVault was recently announced to be the Safety Product of the Year. The tests and analysis were carried out by Shooting Industry Academy of Excellence that showed the company products were safe as compared to others in the same industry.
The GunVault SV 500 SpeedVault handgun safe from this company is known to be its best-selling safe, which has thousands of positive reviews on different online platforms.
2. Stack-On
Stack-On Company has been a leading manufacturer in different types of top quality storage products for home, industrial and office use. The company often stands out when it comes to making gun safes and similar storage products. This has been evident since 1972 when the company started to deliver the best gun safes that people would need to store their guns. The company has invested heavily in making stronger safes for you keep the guns, ammo and any other valuables that you might have. Those who have used it would agree that it delivers on strong construction as their manufacturer only uses solid steel to make great safes.
The Stack-On PDS-500 Drawer safe with Electronic Lock is the most selling safe from this company. It has many features you would want in a compact safe to keep in your drawer.
3. Sentry Safe
The company has a rich history of 79 years with it remaining under family ownership. This means that the company has evolved over the years and all this time satisfying different clients who needed the implementation of a great safe. SentrySafe is an award-winning company when it comes to security of safes. It also works on producing other security products that has made to it to be a global leader today. The company has devoted mostly on making their products to be safe, quality, affordable, and innovative at all times. Their safes have always met the UL and ETL testing standards to ensure they deliver a reliable product to the clients. Whenever you are in the market looking for fire resistant or waterproof gun safe. This should be your first option at all times. Since their products are mostly manufactured in the USA, be sure they are of high quality.
The SentrySafe X055 Security Safe is one of its best-selling safes. You will have a peace of mind whenever you lock up your guns in the safe. It is designed to be strong and withstand any common drilling tool. Its compact size makes it easy to keep it in different locations where the burglar cannot easily access. The interior has a soft carpeted floor that will keep the jewelry and guns from scratches.
4. Barska
The company has been bringing value and additional new technology to the hunting, military and gun safe industry since 1994. These are many years that have seen the company grow better in production of several products that you might need to use such as the gun safes. The company is known for making amazing gun safes with biometric access or keypad access. Whenever you feel that your gun is too exposed to the kids or burglars, then it is time to lock it up using the Barska gun safes.
The Barska Biometric Safe should be the best thing you ever buy to store your pistol. The product is compact and also giving you a unique fingerprint access to your gun. You can use the provided manual by the manufacturer to help set up the fingerprint and have other users added to it. The biometric access can be great especially if you need a one touch access to the gun. The additional emergency keys should help to access the safe when the battery dies or out other emergency situations.
5. Liberty
Liberty Safe company has been rated as America's number one producer of the best heavy duty gun safes, home safes, commercial safes and fire safes. The company has sold over their safes to over 1.7 Million home owners. They all have found that the safes delivers on the promises that the safe has to deliver when it comes to protection. This has made more people to shop for their new gun safes from Liberty Safes Company. They understand that it can deliver on quality, reliability and service just like the customer want. The company has more than 30 models of different safes. You simply have to check them out and decide which one will cover on your current needs for having an amazing safe.
The Liberty 9G HDX-250 Smart Vault Biometric Safe is among the best-selling safe coming from this company. It is incorporated with an amazing biometric system that has been upgraded to handle different types of security breaches. It also has a quick and secure finger swipe access. You will have an easy time accessing the gun whenever you need it in emergency situations. The product is still made to be tamper proof so that no one can access your handgun while you are away.
6. Steel Water
The company does not always make new models each year, as they have already made safes with technology to last for years. Instead of releasing new models each year in an aim to entice buyers, the company spends most of its time and money in developing a long lasting product. You can be sure that it can handle the different security concerns that other new models could not easily handle. The best part is that the company was founded by a person who has been working in the security field for a long time. The owner has the ambition to make the best safes and so far it has been working. Many people can now own the Steel Water safes knowing that it has been made with great security being the priority.
Steelwater Standard Duty 16 long gun fire protection gun safe stands out to be the best when it comes to having a great safe from this company. It comes with 45-minute fire rating that will make sure that it can protect your guns and other valuables in the safe in the event of fire. It comes with a large capacity of 16 long guns. You can store around 10 long guns and leave more space to keep your ammo and other valuables too.
7. Winchester
Winchester has been a top brand in the manufacturer of security products for over 100 years. The company introduced its safe brand in 1991, and it has never looked back again. The company has always delivered on the needs of many people who always needed a place to easily store their guns. The company for a long time has been described to have reliable safes with a lot of integrity. This is how the name of the company has come to get better and win the hearts of many people looking to have nice safes. The safes are known to be fabricated using new and improved technology that guarantees better security than before.
You can opt for the Winchester Safes B-5618F1-9-11 model if you are looking to enjoy the benefits of owning a safe from this company. The long gun capacity comes down to 10 long guns. If you love rifles, you now have a nice place where you can store them. It has unmatched entry level quality that would make anyone want to choose it. It also has an amazing protection against fire for around 45 minutes. This will keep the gun from the fire long enough just to ensure that you get to put out the fire and access the guns. It also comes with a pry resistant door reinforced enough to prevent any case of accessing it using common drilling tools.
8. AmazonBasics
AmazonBasics has been providing the best accessories that you need in different fields, but that has changed over the years as it has now introduced the all new gun safes. You can now buy the product knowing that it can deliver on the needs of many people who own guns. You can now easily have a nice time at the office knowing that you have kept the gun safe from the hands of your kids or a burglar. Being mostly sold on Amazon, the company has many positive ratings and reviews that show the company does deliver on the best safes that you can use today.
The AmazonBacis Security safe comes with enough capacity for storing a wide range of times that you might have. Many people use it to store legal documents, cash, handguns and jewelry. The steel construction offers a rugged reliability that most people would want in a gun safe. This is all because of a strong steel construction that can withstand several efforts from the burglar trying to access it. Setting up your access code should not be hard at all as the manufacturer clearly explains it when you get to choose the product today.
9. V-Line
The V-Line brand has been in the business of producing high quality products in the last 30 years. The company has always produced the best safes to ensure that they meet the needs of their customers. The company makes from small sized cabinets to high quality gun safes for different uses. The company products have not just been embraced by citizens, but even government agencies are now using them to ensure their security is always maintained. The company mostly makes safes with keyless entry that make it easy for access whenever you have to retrieve the gun. Depending on the size and design, you can store the safes anywhere around the house or office to keep away the burglars.
If you want to have a taste of the V-Line brand, it is time that you checked out the V-Line Top Draw Security Case. The product is known to deliver on the needs of many people who would want a strong safe to store their hand gun. The safe is compact enough to be used in different occasions when carrying the gun. Most people use it as a portable car gun safe or drawer gun safe. The steel construction makes it pry resistant for many cases where the user has to keep the gun from burglars of children.
10. Fort Knox
Anyone who has wanted to buy a new safe would always get recommendations about checking out safes from Fort Knox. This is all because the company has made several premium safes and vaults that have all worked to make the company to be called 'America's Best'. The company has an amazing team that focuses more on making quality and personalized safes to handle as many needs as people might have when it comes to making a great safe. Many people love owning a Fort Knox safe for having unequaled security, impressive fire protection capability and a lifetime warranty. Not many companies can boast of having a lifetime warranty on their gun safes.
What Makes a Good Gun Safe?
It is obliviously important to want a safe that effectively protects your firearms and other possessions from burglars, children, and fires. However some safes are much better at doing these than others, which are simply marketed well but really don't deliver.
There are a number of standards that indicate how secure or fire resistant a safe really is. Here are key ratings for gun safes in the United States:
UL RSC (Residential Security Container)
This is a certificate that is given to gun safes which are given once tested by Underwriters Laboratories (UL). This rating indicates the security of the safe when faced against forced entry. Different grades of the certificate indicate how secure a safe is.
UL Fireproof Classification
Gun safes that state they are fireproof are also given a rating by UL and again there are various ratings for this. The safes are rated based on how long they can keep the contents below a certain temperature e.g. "350-1 hour" will mean the inside of the safe won't get hotter than 350 degrees Fahrenheit for 1 hour.
California Department of Justice (DOJ) Regulatory Gun Safe Standards
Provides a set of standards such as thickness of steel locking bolts, drill resistant lock, thickness of steel walls, and protection of door hinges. Not as rigorous requirements as UL RSC standards, but  should provide decent protection.
The above should make it clear that you want to buy a safe that has been properly tested and meets reliable and trusted standards of either security, fire resistance, or both.
Why Not All Gun Safes Are Created Equal
Just because the gun safe manufacturer claims it has high security, a "secure" locking system, with reinforced steel, it doesn't mean it can't be broken into with simply a pry bar, or even a screwdriver. Even if the safe has a thick metal door if it has flaws elsewhere i.e. in its locking system, then it really isn't going to keep your firearms and other belongings safe.
Other things to look for is if it has anchor holes (to bolt it down), quality of welding, door gap (to prevent easy prying), lock security, and fire rating. The safes we have recommended in these gun safe reviews have many of these features, if not all.
Does paying more for a safe mean better quality? Not always. Many safes are marketed to look "secure" with fancy features, but when it comes to actual security they are weak, and you are really only paying for a better looking safe.
Other Features To Look For
You may also want to consider other features a safe might have, such as: adjustable shelving, door pockets, power in, ethernet, and digital locking. Many safes are now also incorporating biometrics, but these can be unreliable on cheaper safes.
Summary
There are a lot of great safes available and equally poor ones. The key thing to look for is if they have been tested by a reputable organizations to ensure they can really back up their claims.
If you enjoyed these gun safe reviews we have a number of more specific gun safe reviews you can checkout using the links below.